¡Hoy nos deleita resaltar a Yasmine Avila! Yasmine es una educadora apasionada que disfruta de estar al aire libre y de cuidar de los animales. Ella se siente orgullosa de ser boricua y dice que "siempre lleva a la isla en su corazón sin importar qué tan lejos esté".

¡Conozca más sobre esta educadora polifacética en nuestra publicación de blog más reciente!

Today we are delighted to shine the spotlight on Yasmine Avila! Yasmine is a passionate educator who finds joy in the outdoors and taking care of animals. She is a proud boricua and says "no matter how far away I am, I always have my island in my heart".

Learn more about this multi-talented educator in our latest blog post!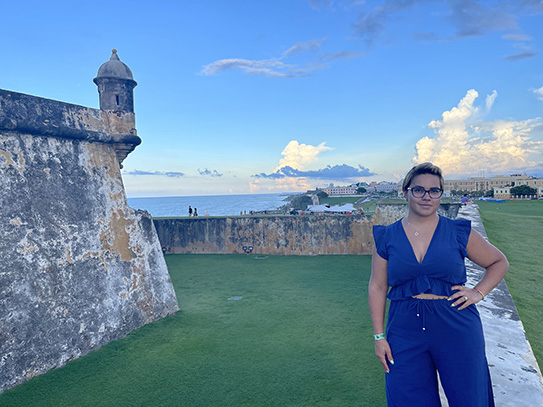 Q: How long have you worked with All Our Kin? What do you love about the organization? / ¿Cuánto tiempo ha trabajado usted con All Our Kin? ¿Qué le gusta de la organización?
A: Desde 2018 Para mi Aok es familia es una organización que ayuda a dar conocimiento a nuestra comunidades de nuestro trabajo como educadora también nos prepara nos ayudad en -la educación-herramientas de servicio.
Since 2018. For me, AOK is family. It is an organization that helps us to educate our communities about our work as educators and that also prepares us and provides us with tools to serve.
Q: Why did you decide to go into Early Childhood Education? / ¿Por qué decidió dedicarse a la Educación para la Primera Infancia?
A: Me apasiona enseñar educar.
I am passionate about teaching, educating.
Q: What does Latinx Heritage Month mean to you? / ¿Qué significa el Mes de la Herencia Hispana (Latinx) para usted?
A: Herencia y cultura.
Latinx Heritage Month means celebrating our legacy and culture.
Q: Tell us a little about yourself! What do you enjoy doing in your spare time? Any hobbies? Passions? Anything that would surprise us? / ¡Cuéntenos un poco sobre usted! ¿Qué disfruta hacer en su tiempo libre? ¿Algún pasatiempo? ¿Pasiones? ¿Algo que nos sorprendería?
Me apasiona la agricultura sembrar tener animales de granja cuidar de mi mascotas y gallinas- rescatar animales. En mi tiempo libre ayudo a nuevas provedoras. Diseñar ambientes-decorar sus espacios o les ayudo con mi experiencia fotos-salir a caminar- disfrutar el aire libre la naturaleza. Me encanta ir de acampar.
Represento A Puerto Rico. Yo naci en un lugar donde dicen Ay bendito. Donde se grita Wepa!
Donde se come arroz con gandules, pernil, y pasteles. Donde las navidades son las mas largas duran hasta las Octavitas. Orgullosamente de decir que Soy boricua como coqui enamorada de mi isla, De mi gente donde no importa Lo que pase siempre la formamos y no importan que tan lejos yo este siempre tengo a mi isla en mi corazón.
Estoy orgullosa de ser educadora, madre de 3, y de representar la comunidad latina.
I am passionate about agriculture, planting, having farm animals, taking care of my pets and chickens, rescuing animals. During my free time, I help new providers in designing new environments, decorating their spaces, or I help them by sharing my experience. I like taking pictures, going on walks and enjoying the outdoors. I love camping.
I represent Puerto Rico. I was born in a place where people say "Ay, bendito" (Oh my Gosh), where people scream "¡wepa!" (yeee-haaa!).
Where we eat rice with pigeon peas, leg of pork and pasteles. Where the Christmas season is the longest… up to the extended eight-day celebration after Three Kings Day. I am proud to say that I am a boricua like the coquí. I am in love with my island, with my people. We are always part of it no matter what happens, and my island is always in my heart no matter how far away I am.
I am proud of being an educator, a mother of 3 and a representative of the Latino community.