¡Estamos de vuelta para resaltar a otra persona durante el Mes de la Herencia Latinx! Conozca a Loyda Soto. Loyda decidió iniciarse en la educación de la primera infancia porque le apasiona proveer un cuidado de calidad a las familias. Ella quiere que los padres se sientan bien cuando envían a sus hijos a un lugar seguro y amoroso todos los días.
¡Lea nuestra publicación de blog más reciente para conocer un poco sobre Guatemala, el hermoso país de Loyda, y los logros de los que ella está orgullosa!
We're back with another Latinx Heritage Month spotlight! Meet Loyda Soto. Loyda decided to go into early childhood education because she is passionate about providing families with quality care. She wants parents to feel good about sending their children into a safe, loving environment every day.
Read our latest blog post to learn a little about Loyda's beautiful country, Guatemala, and the accomplishments she is proud of!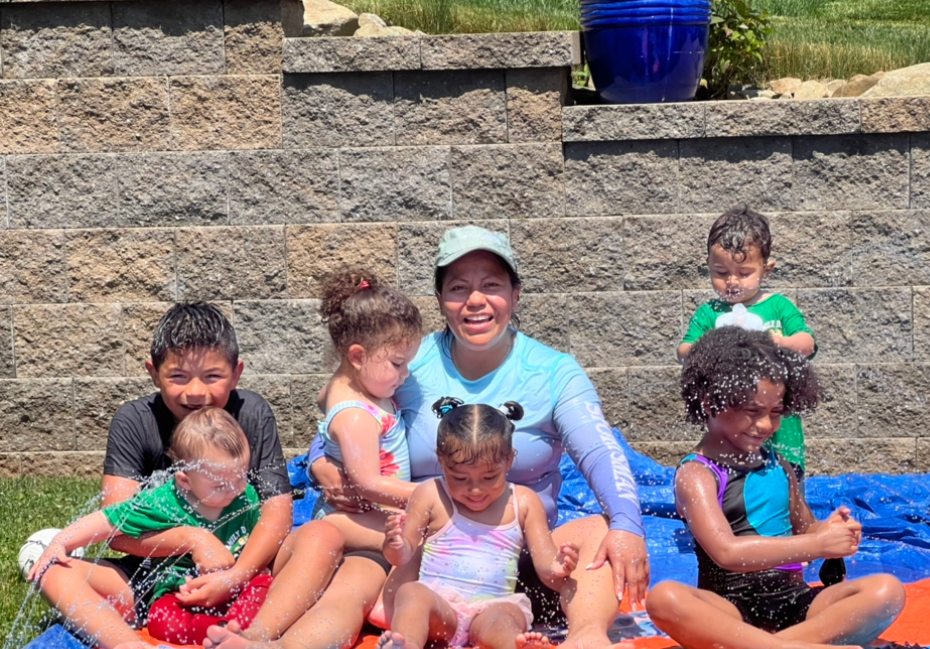 Q: How long have you worked with All Our Kin? What do you love about the organization? / ¿Cuánto tiempo ha trabajado usted con All Our Kin? ¿Qué le gusta de la organización?
A: 9 años. El compromiso y lealtad y Apollo a las educadoras.
9 years. The commitment, loyalty, and support they offer educators.
Q: Why did you decide to go into Early Childhood Education? / ¿Por qué decidió dedicarse a la Educación para la Primera Infancia?
A: Porque quería brindarles a los padres un cuido de calidad y que ellos se sintieran bien al dejar a sus hijos en un lugar agradable y seguro para sus hijos
Because I wanted to offer parents quality care and that good feeling of leaving their children in a nice and safe place.
Q: What does Latinx Heritage Month mean to you? / ¿Qué significa el Mes de la Herencia Hispana (Latinx) para usted?
A: Es un mes de reconocimiento de nuestro trabajo y desempeño
It is a month when our work and achievements are recognized.
Q: Tell us a little about yourself! What do you enjoy doing in your spare time? Any hobbies? Passions? Anything that would surprise us? / ¡Cuéntenos un poco sobre usted! ¿Qué disfruta hacer en su tiempo libre? ¿Algún pasatiempo? ¿Pasiones? ¿Algo que nos sorprendería?
A: Guatemala es mi país de origen. es el país de la eterna primavera por sus distintos y bellos climas, tiene muchos lugares turísticos, volcanes lagos , contamos con las ruinas de tikal que es un lugar con culturas mayas.
Tomar una tasa de café meditar en mi día de trabajo y estar al aire libre
Estoy orgullosa de haber obtenido la acreditación de NAFCC, en lo personal estoy orgullosa de tener una familia estable y ser proveedora de cuidado de niños y ser parte de la educación temprana de los niños en Connecticut. También muy orgullosa de haber obtenido mi ciudadanía de Estados Unidos de america.
¡Gracias por ser parte de nuestro día a día tenemos en quien contar!
Guatemala is my country of origin. It is the country of eternal spring due to its distinct and beautiful climates; it has many tourist places, volcanos, lakes; we have the ruins of Tikal, which is part of the Mayan culture.
I love to drink a cup of coffee, meditate and be outdoors during my work day.
I am proud of having received the NAFCC´s accreditation. On a personal note, I am proud of having a stable family and of being a child care provider who contributes to early education of children in Connecticut. I am also very proud of having become a citizen of the United States of America.
Thank you to All Our Kin for being part of our everyday lives! We can count on you!