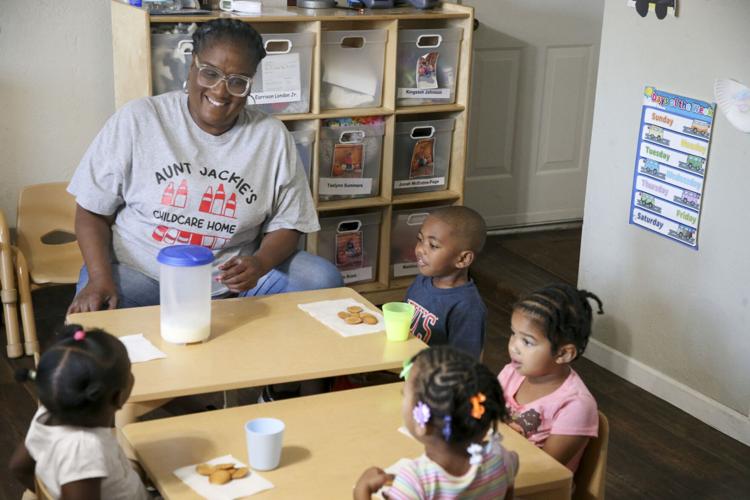 Jackie Evans in her family child care program in Tulsa, OK. Photo credit: Tulsa World
At All Our Kin, we are constantly energized by our technical assistance (TA) partners' innovation as they strengthen their work with family child care (FCC) in their local communities. As part of our ongoing series highlighting TA partners, we spoke with Jackie Evans, a family child care leader in Oklahoma, and Lindsay Insomya, Network Manager at the Oklahoma Partnership for School Readiness (OPSR).
They are part of a statewide team in Oklahoma that is engaged in TA's second Network Development cohort. This team, anchored by OPSR, is centering the leadership of FCC educators as they build out the first staffed family child care network in the state. You can check out the impact of this new and growing Oklahoma network in their recent video! This interview has been edited for length and clarity.
All Our Kin: Jackie, what would you like people to know about you and your leadership in family child care?
Jackie Evans: I've run my own family child care home for 23 years, and I was a center director for 20 years before that. I think that I was put on this earth to assist people to become better child care providers. With my knowledge, along with assistance from other agencies, we can make a difference here in Oklahoma to enhance the entire field of child care.
AOK: That's really inspiring! Lindsay, how did OPSR get involved in the Network Development cohort with All Our Kin?
Lindsay Insomya: Brittany Lee, Director of Child Care Services at DHS had the wonderful idea of building a staffed family child care network. Since OPSR manages the Child Care Resource & Referral contract with the state, it made sense to align the work with family child care homes within the existing CCR&R network. After researching different models we liked All Our Kin the best. Plus, we had the added benefit of already knowing Oklahoma's own Kelly Ramsey, All Our Kin's Network Development Strategist, so we knew it would be a good fit.
AOK: Could you both talk about what you think the benefits are to a staffed family child care network?
LI: I would say that the biggest benefit is the networking and support that providers are getting. Already 200 family child care homes have signed up for the network. In the past, they might have known each other in passing. Now they have connections where they can call each other – they are not alone. We also have the ambassador program, where regional provider leaders are paid ten hours a month to be mentors to other providers in their area. That has really helped providers feel more connected by peer support.
JE: I've been in the role of state ambassador in the network for several months, and I mentor women across the state. I have quite a few mentees on my roster – I have over a hundred women that I keep in touch with, both through the network and as a state representative for the National Association for Family Child Care (NAFCC).
AOK: Jackie, could you talk about what it means for you to be a part of the AOK cohort team as an owner of a family child care home?
JE: I think that I play a crucial role because I can give a family child care view from my experience. When we're meeting and I tell stories from what's happening in family child care, the other partners really listen. And I really appreciate that because some of them have not been part of a family child care home. So it gives them knowledge and fuel to do this work.
AOK: What's the vision of your team? How do you both hope this work will impact educators and families in Oklahoma?
LI: Our goal is for providers and businesses across the state to understand the financial impact that family child care homes have – on our economy overall, on helping improve child care deserts, and of supporting those nontraditional hours that are such an important aspect of family child care. We want potential providers to see going into family child care as a viable option for them. Long-term we want family child care homes to thrive in Oklahoma, we want Oklahoma to be a model for what quality family child care can look like across the country.
JE: Our goal is to support the providers, let them know about the funding opportunities out there, and for the network to stand by us and promote quality child care. We've been known throughout the years to just be babysitters, and that's not what we are. We are caregivers that love our children and love our families. We also don't want this to be a competitive atmosphere for providers – we want to have a community with enough tools and support to go around.
AOK: Lindsay, what difference do you think it makes to partner with All Our Kin on this project?
LI: Partnering with All Our Kin has helped us shape the network and give us direction on what ideas we can do. They've been a valuable resource and sounding board. It's been an amazing partnership. The whole team has been incredibly supportive. We love that they're there as a cheerleader to us, with the goal of helping providers and the kiddos they serve get the best resources possible in order to help them all thrive.

We want to thank Jackie and Lindsay, in addition to the entire Oklahoma team, for their partnership! As our Network Development Director Jennifer Drake said, "It seems everyone who hears about Oklahoma's regional network ambassador program wants to learn more about it. Peer sharing and mutual learning is part of what makes network development technical assistance so special--and Oklahoma has been generous about sharing their work."