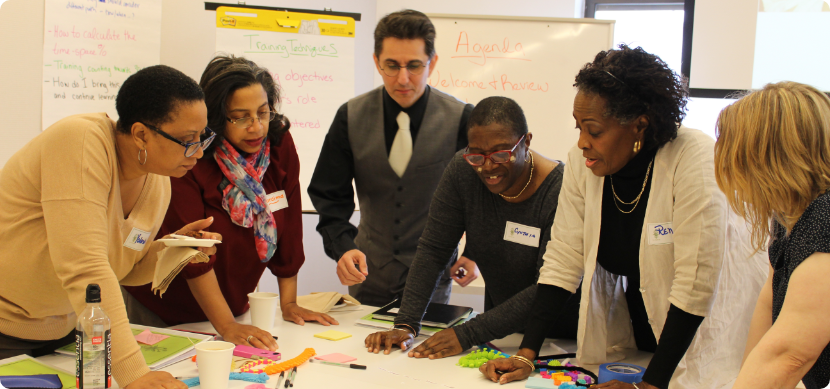 (New Haven, CT) – National nonprofit All Our Kin is thrilled to join forces with leading early childhood education organizations to collaborate on the new National Early Care and Education (ECE) Workforce Center. The U.S. Department of Health and Human Services recently announced the advent of the Workforce Center; All Our Kin will be collaborating on the Center's technical assistance activities.
The organizations involved with the ECE Workforce Center share the common goal of advancing the recruitment and retention of a diverse, qualified, and effective child care workforce, and advancing change through the elevating of educator voices in developing innovations and improvements in the ECE system.
"We couldn't be more thrilled to work alongside Child Trends and other leaders in the early childhood education space to address the ongoing issues that have led to this country's child care crisis," said Jessica Sager, Co-Founder and CEO of All Our Kin. "When some of the biggest brains in the business are shoulder-to-shoulder–and when we listen to and lift up the voices of those doing the work–the opportunity to effect change is undeniable."
The ECE workforce plays an integral role in children's health and development while providing an essential service to working families and the economy. However, fragmented funding and operating systems, and longstanding racial and gender inequities that have been exacerbated by the COVID-19 pandemic, undermine the knowledge, skills, and well-being of more than 2 million providers—nearly all of whom are women, and who are often women of color or immigrants.
All Our Kin's Technical Assistance team, which has been selected to support the ECE Workforce Center, builds the capacity of organizations across the country to increase the supply, quality, and sustainability of family child care. This work is based upon All Our Kin's two decades of experience in operating holistic, responsive family child care networks. AOK's approach is relationship- and strengths-based, centers equity, and elevates family child care educator leadership.

"With the right kinds of support and training, we can be very intentional in creating opportunities for families across the country so they can access quality child care," said Maureen Wright, Vice President of Training and Technical Assistance at All Our Kin. "We are gratified to put our decades of experience with direct implementation and research to use, and leverage the deep knowledge that educators have about the challenges and opportunities in their communities."
The ECE Workforce Center is a collaborative staffed by six core partners: The BUILD Initiative, Center for the Study of Child Care Employment, UC Berkeley, Child Trends, DE Institute for Excellence in Early Childhood at UDel, Institute for Early Education Leadership and Innovation at UMass Boston, and ZERO TO THREE.
All Our Kin is among the initial group of organizations that will provide support through the team's Learning through Action Consortium, which includes Child Care Services Association, EDvance, The National Association for Family Child Care (NAFCC), Early Care & Education Pathways to Success, Prenatal to Five Fiscal Strategies, Start Early, NATIONAL WORKFORCE REGISTRY ALLIANCE INC, and the Donahue Institute.
The new HHS National Early Care and Education (ECE) Workforce Center comes at a critical time for the workforce and the country to address these inequities. Read more about the Center here.
# # #
All Our Kin is a national nonprofit organization that trains, supports and sustains family child care educators. Through All Our Kin's programming, educators build sustainable child care businesses, parents have access to stable, high-quality childcare, and children gain the educational foundation that lays the groundwork for success in school and life.